The Bias Action Group is composed of students and staff who are committed to understanding, responding, and educating our collective community on issues of bias.  This group will meet every semester to review our bias data, identify trends and concerns, and create programming and messaging that address the real issues presented in our own community.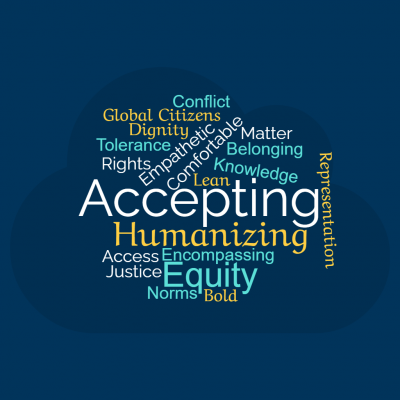 Bias Action Group Members
| | | |
| --- | --- | --- |
| Su | Angela | Undergraduate Student |
| John | Armstrong | Director, Off Campus & Commuter Student Services & UConn Faith Liason |
| Maureen | Armstrong | Associate Dean of Students/Director, Dean of Students Office |
| Rode | Bataille | Graduate Student |
| Kim | Beardsley-Carr | Associate Director of Student Welfare, Residential Life |
| Olivia | Beck | Undergraduate Student |
| Cal | Benitex | Undergraduate Student |
| Michael | Bradford | Vice Provost for Academic Affairs |
| Joe | Briody | Assistant Vice President for Student Affairs, Director of Student Activities |
| Brenda | Brueggemann | Professor, English |
| Megan | Buda | Director, Office of Community Standards |
| Antonia | Caba | Graduate Student |
| Elly | Daugherty | Associate Vice President of Student Affairs/Dean of Students |
| Damani | Douglas | Undergraduate Student |
| Zoey | England | Undergraduate Student |
| Gary | English | Professor, Dramatic Arts |
| Justin | Fang | Graduate Student Trustee |
| Noah | Frank | Undergraduate Student Trustee |
| Kent | Holsinger | Vice Provost & Dean, The Graduate School |
| Brendan | Kane | Professor, History & Director, Democracy & Dialogues Initiative |
| Kathryn | Libal | Associate Professor, Social Work & Human Rights and Director of the Human Rights Institute |
| Emily | Martinez | Undergraduate Student |
| Aanya | Mehta | Undergraduate Student |
| Rahul | Mehta | Graduate Student |
| Nidhi - Jayakumar | Nair | Undergraduate Student |
| Mark | Overmyer-Velazquez | Director, Hartford Campus |
| Brianna | Plesz | Undergraduate Student |
| Letissa | Reid | Associate Vice President, Title IX Coordiator & ADA Coordinator |
| Angela | Rola | Director, Asian American Cultural Center |
| Margaret | Rubega | Professor, Ecology & Evolutionary Biology & Chair Senate JEDI Committee |
| Lesley | Salafia | Senior Associate University Counsel |
| Stephany | Santos | Assistant Professor in Residence, Biomedical Engineering |
| Frank | Tuitt | Vice President, Chief Diversity Officer |
| Michael | Vidal | Director of Diversity Initiatives |
| Daniel | Weiner | Vice President for Global Affairs |
| Michelle | Williams | Associate Vice Provost, Office of Research |
Bias Action Group Meeting – Sept. 20, 2022
Bias Action Group Meeting – March 7, 2021
On March 7, 2021 the University held the first meeting of the Bias Action Group. This group of students, faculty and staff came together to review the Bias response process and begin to identify approaches to help our greater campus community grow together, support one another and take proactive steps to work to create change. The statements below represent the ideas shared by the members during our first session.
Our institutional culture should be humanizing in that it allows every member of our community to feel affirmed, valued, safe, supported, and whole.
In order to listen, we have to lean in; in order to support community, we need to lean on each other.
Students of all backgrounds should feel safe, comfortable, and included in all aspects of life and learning at UConn.
Bold trend-setting thought leadership and community are required to create, cultivate, and support welcoming learning and employment environments.
I aspire to shape a community where DEI is the norm, not something extra in addition to our every day.
Engaging in attitudes and behaviors (personally, interpersonal, and institutionally) that enhances, and not diminishes the humanity of our students, faculty, and staff.
At UConn, all community members should be accepting of others for who they are, not who society wants us to be.
Students know they matter because all they are is welcome at UConn -- their identity, their agreement, their disagreement, their values, etc.
Creating a university that values justice on behalf of oppressed communities than one that values the comfort of the oppressors.
UConn will be a place where community members have a sense of belonging, they know they matter, they feel safe to fully be who they are and it is accepted.
No one should be denied full and complete access to engage in our community.
The university as a community will encompass the views, history, thoughts, races, ethnicities, religions (and more) of a truly global community.
An inclusive campus understands that while words and actions may hurt/harm others - everyone has rights within our community.
I hope the university can provide an equitable campus for all students, faculty, and community members, focusing on community-specific resources.
UConn will be a campus where community members are accepting of differences in race, ethnicity, ability, background, and viewpoints.
By increasing and broadening knowledge of racial, cultural, faith beliefs, sexual orientation, and other differences -- we can begin to grow as a campus.
UConn strives to embed equity in all facets of campus life, policies, and practices. Equity means fairness of justice in resources, practices, policies, and more.
We achieve inclusivity on-campus when we level the playing field for perspectives to have a voice on our campus.
The university must be a place where intellectual and political conflict can be modeled in a respectful and civil manner.
Each person in our community has a natural dignity which should be acknowledged and accepted by the other members of our community.
Tolerance, to me, is the ability to be open-minded and inclusive in our college community -> accepting and welcoming of racial, ethnic, cultural, and ideological diversity.
Understanding those around us and embracing organic differences is crucial to preparing us all to be effective global citizens and future leaders.
In order to achieve an inclusive environment being empathetic is key. Understanding each other's achievements and struggles helps us bridge the differences that exist among us.