Communications sent to the campus from the Associate Vice President for Student Affairs/Dean of Students will be posted to this page.
2022 - 2023 Messages
Confronting Bias as a Community that Cares – 9/15/22
Subject: Confronting Bias as a Community that Cares
Hello Huskies,
The semester is successfully underway.  This time last year, Dr. Tuitt and I promised to send you periodic updates about bias incidents and referrals at UConn. Today we honor that promise by including details of the bias referrals we received for the 2021-2022 academic year.
Before we get into the details, however, we'd like to remind you why it is so important to routinely address bias incidents: such incidents of hurtful speech and action undermine our commitment to creating an inclusive and caring community. Such speech and actions can hurt people and make them feel isolated at UConn. This not only makes it harder to achieve their full potential at UConn, but also limits what we, as a group, are able to achieve together. We are committed to making UConn a better place to live, learn, and work by addressing any and all bias incidents that negatively impact our campus climate.
Every incident referred to us documents a hurtful moment impacting a member of the UConn community. Not all of those incidents rose to the level of a conduct violation. For example, anonymous postings on white boards that mock identity, people shouting offensive slurs in the middle of the night when they think no one is listening, or anonymously posting derogatory comments online are all harmful incidents, most of which are protected by freedom of speech. In these cases, we are determined to use these incidents to educate the community about their harmful outcomes.
Here is a summary of what was shared with the University (students are welcome to submit a report) here: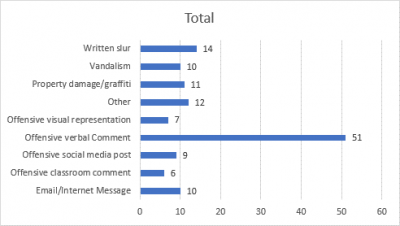 Over the course of the 2021 -2022 academic year, 124 bias related referrals were shared with the University. Some of those referrals disclosed multiple incidents, some resulted in code violations.  The majority of the referrals resulted in community conversations led by the Dean of Students Office or the Department of Residential Life. We used these moments to provide honest reflections of our University and to rededicate ourselves to improving it.
What should we make of this?  Is UConn a community that values free speech? Absolutely.  It is the reason we are able to learn and discover as a research university.  Some have suggested in these community conversations that maybe our sense of humor is lacking.  Can we just not take a joke?  Sure, we can.
But is it funny? Is it funny or necessary to demean and remind others of historical oppression through offensive words and actions?  Can we instead embrace the privilege of free speech and the desire to care for all members of our community?  Can we learn more from one another rather than pushing each other away through actions that I know so many of us regret in hindsight?
Perhaps exploring these questions and sharing our discoveries along the way can be our commitment to each other in the year ahead.  We are excited to launch the UConn Faith and Expression Challenge this year.  The Bias Action Group that was formed last year will meet next week.  Additional opportunities for engagements can be found on the Diversity, Equity, Inclusion, and Justice @UConn website.
We look forward to the journey ahead and our continued commitment to a caring community.
All our best,
Eleanor JB Daugherty, EdD
she/her/hers
Associate Vice President and Dean of Students
Dr. Frank Tuitt
He | Him | His
Office for Diversity and Inclusion
VP | Chief Diversity Officer
Welcome Back Huskies – 8/25/22
Subject: Welcome Back Huskies
Dear Huskies,
I am so happy to welcome our new and returning students to campus! I have so enjoyed hearing about your summer projects (research in Puerto Rico, competing nationally, and internship achievements abound).
A few things to start us thinking about a new term:
Our Health:
COVID will never entirely go away and my colleagues in SHaW are prepared to manage COVID cases when they emerge. Students who test positive for COVID will need to isolate and will be provided alternative access to meals.
We should never stop caring for one another as we have over the course of the last two years. Mask wearing and seeking medical support always matter when you are not feeling well. Masks are always welcome on all of our campuses. Remember to rest, eat well, exercise, and be there for each other when times are stressful. And yes, I choose to believe that the Dairy Bar has lots of calcium and vitamin D. Truly essential for your health.
We will enter the semester without required entry testing, quarantine period, or required mask wearing. We will continue to monitor our health and will keep you informed through the COVID dashboard.
Remember, our health can change at any time. If the University needs to revisit any of these measures, we will let you know right away.
Let's continue to care for one another by being a part of UConn's Wellness Coalition. This network of students, staff, and faculty work together to build and sustain a culture of compassion and well-being on our campuses. To express interest, send an email to Karen McComb, our Director of Health Promotion and Community Impact, with a short statement of why you would like to serve on the Coalition and what particular areas of student well-being are important to you by Friday, September 16th.
I turn to this group a lot when I am developing plans for student mental health and overall well-being. Your participation matters and we would love to have you join us.
Opening Weekend:
This is an exciting time here on campus! For our first year students it is referred to as Husky WOW. A three-day experience during move-in weekend designed to make you feel welcomed and connected to the UConn Community, make responsible choices, and provide an opportunity to engage in a diverse community with multiple voices and perspectives.
Upon your arrival to campus, you will be connected with a Husky WOW Leader. WOW Leaders will be your personal guide to campus providing direction, answers, and your overall point of contact throughout the weekend!
For our schedule, and up to date information about Husky WOW, visit our website. Connect with us on Facebook (UConn Student Activities), Twitter (@UConnActivities), or Instagram (@uconnstudentactivities), where we will have continuous information about WOW program and you can meet some of your WOW Leaders!
Dining:
I know, this a huge deal: to-go containers for the fall 22 semester are available for students who have a mealtime class conflict, internship, or dietary need. If you are in need of a to-go container please use the following link to submit a request. To-Go Containers | Dining Services (uconn.edu)
Students who have a residential meal plan and are commuting from Storrs to the Hartford or Avery Point campus were sent a separate communication about how to access to-go containers or transfer flex passes last week.
All the Dining information you need for the semester can be found here.
Additional Announcements:
Now, this is important to me, and I realize we are reaching the end of a long email, but it is important for me to acknowledge a transition that occurred during the summer.  My colleague, Dr. Willena Price, retired from the University on June 30, 2022.  As the Director of the H. Fred Simons African American Cultural Center (AACC) since 1993, Dr. Price has been a tireless advocate for the African American community at UConn. She has guided the AACC over the years and enabled me to be an effective ally to her work over the years we worked together.  I am grateful for her influence and impact in my own life, and I know many of you are as well. Her work has been recognized by the NAACP, Hartford and Springfield, former Governor Dannel P. Malloy, and the University.  A search for the new Director will be led by the Office of Diversity and Inclusion will begin in January.  Student input will truly matter, and I encourage you to be involved.
Finally…do not forget to bring your UConn ID back with you! If you forget it, you will have to wait in line for a replacement and pay the $30 replacement fee.  If you do not have your UConn ID yet, be sure to upload your photo here. This allows the One Card Office to preprint your card, saving you valuable time standing in long lines and having to wait for your card to be printed.
The One Card Office will be open move-in weekend for the following hours:
Friday, 8/26: 8am – 4pm
Saturday, 8/27: 9am – 3pm
Sunday, 8/28: 9am – 3pm
Again, welcome back!
All good things,
Eleanor JB Daugherty, EdD
she/her/hers
Associate Vice President and Dean of Students
P.S.  Over the last two years, I developed a habit of writing you every week so we could stay connected during an unprecedented time.  No one likes email spam, but we do like to stay connected.  So, if you have read this far, let me know what works for you by completing this brief survey. Also, you are all WARMLY invited to attend my Dean's Advisory; no application/audition required.
2021 - 2022 Messages
2020 - 2021 Messages