Communications sent to the campus from the Associate Vice President for Student Affairs/Dean of Students will be posted to this page.
2021 - 2022 Messages
Welcoming YOU back (but not COVID-19..) – 12/1/21
Subject: Welcoming YOU back (but not COVID-19..)
Hi Huskies,
Let me first warmly say: welcome back!!!
Whether turkey is your thing or not, I truly hope you had some time to relax, sleep in, feast in the company of loved ones, and celebrate all of your hard work this semester.
Now, about that other thing: a new variant.  Omicron.  Thank you, Covid.
It's not in the US just yet but we know how this goes and we know what to do: masking, testing when we are sick, and, of course, vaccinations and boosters.
So, let's talk through that a bit and how I imagine the rest of the semester will pan out:
First, the testing results over the course of the last two weeks are a bit concerning.  As you will note on the dashboard, we are reporting more than 20 Storrs students who tested positive from November 18 to December 1.  In addition to those results, 10 additional students reported positive test results while away from campus for the Thanksgiving holiday.
That is a notable increase in comparison to our past positivity over the course of the semester.  Most of those students told us of their positive test results before they returned to campus and they are isolating at home.  We wish them a speedy recovery.
In the meantime, we know what to do:
Monitoring:
The SHaW medical team and I will be closely watching test results as well as what we learn through contact tracing and wastewater sampling to determine if we are experiencing an outbreak and if we need to contain spread.  Yes, this could mean residential quarantines and increased testing in areas where we see a high presence of COVID.  Additional testing and possibly residential quarantine could occur even if you are vaccinated.
It is too soon to say if that is necessary at this time.  But it's possible and I don't want you to be surprised.  I will update you as soon as I know more.
Prevention:
Not getting COVID-19 is important.  We want, as always, to protect ourselves and others.  We do that best when we are vaccinated (thank you, Huskies) and, as you become eligible, getting boosters.  Check out the SHaW website to determine when you are eligible for a booster or third dose.

Booster clinics for Storrs students are occurring every Tuesday on the Storrs campus through the end of the semester and will resume in the Spring term.  Appointments for boosters may be scheduled through the SHaW Patient Portal.
Regional students are also eligible for boosters and may schedule through the Connecticut Vaccine Portal.

Wear a mask indoors (please, thank you)
Take care of yourself: If you are feeling sick, please contact the SHaW advice nurse at 860-486-4700 or your health provider to discuss testing for COVID-19.
Eat healthy food and get plenty of rest. If you are facing food insecurity, we have staff here to help. Storrs students should reach out to the Dean of Students Office to learn about how to access campus and local resources. Regional Campus students should contact the Student Services staff at their home campus to learn about food assistance options in the local communities.
This is not new to us.  We do what we do: care for one another.  Winter and the increased time we all spend indoors makes it all the more important that we follow those preventative measures and take good care of ourselves and others.
Be well, Huskies. I'll be in touch.
All my best,
Eleanor JB Daugherty, EdD
she/her/hers
Associate Vice President and Dean of Students
Giving Thanks to All of You and to Our Purpose – 11/19/21
Subject: Giving Thanks to All of You and to Our Purpose
Hi there, Huskies,
I know, I know, you're hoping I won't go here… but I will: it's time to think about what we're thankful for.
First, above all, our good health. Our extremely high vaccination rates and indoor mask-wearing have consistently kept our COVID infection numbers to infinitesimal numbers. The credit for that goes to you. Let's keep that going by getting boosters as soon as you hit the six month mark (Pfizer and Moderna) or two months (Johnson and Johnson).
The time we spent apart last year has made this year together that much more meaningful for all of us.  I have heard from countless students who have shared how happy and relieved they are to have been back on campus this semester, taking in-person classes, participating in in-person events, and loving the time they get to spend with their friends and classmates face-to-face. We celebrate these accomplishments.  Your care and concern for one another, even when things are stressful and uncertain, has always been our greatest strength as Huskies.
At the same time, it goes without saying that we are living in difficult times. We are all well aware of the multiple, cascading crises afflicting the globe and the tension and conflict within our own nation. There are many things that are beyond our direct control. One thing that is well within our control, however, is how we treat one another here at UConn and what kind of a campus culture we want to have.
At UConn, we can always choose to be kind to one another, and to be respectful of others – including those we disagree with. We do not have to emulate the divisiveness we see in the world around us; in fact, we can do the opposite. We can embrace the desire to find the good in others and to better understand one another through dialogue, discussion, and listening. This idea -that we listen, learn, and discover based upon our common identity as Huskies- is what UConn is all about.  We can choose to be a special place that seeks to critically examine the troubles of our world by making it our goal to foster friendships, cultivate allies, and build bridges between people – including those who could not be further apart.
We can be different. That doesn't mean we will no longer feel deeply and passionately about the things that are most important to us.  It doesn't mean we will stop arguing for what we feel is right. Nor should it.  But we can all follow our passion and critically engage with others in a way that recognizes and values the humanity of the people we're talking to. That way, when our graduates leave UConn – many of whom will devote their lives to addressing the myriad of problems we face – they will be well-equipped to address them most effectively and build friends and allies in the process.
And that is something to be thankful for.   Change the world, UConn.  But don't forget to care for each other along the way.
Enjoy your break.
All my best,
Eleanor JB Daugherty, EdD
she/her/hers
Associate Vice President and Dean of Students
Think Spring – 11/12/21
Subject: Think Spring
Hi there Huskies,
First, shout out to the incredible folks who joined me in the Confronting COVID panels on our campuses.  It is an honor to come together with students, practitioners, and faith leaders to discuss our success and prepare for our future.
Speaking of the future…I owe you an update on the spring semester.
First things first, we're not closing campus after Thanksgiving.  This seems to be a rumor that won't stop.  Spend some time with those you love, be safe, and COME BACK.  Classes and finals await.
A few more spring highlights:
Testing and Vaccination: The COVID-19 Policy requires that students engaged in in-person learning either demonstrate proof of vaccination or receive an exemption.  Students entering UConn for the Spring semester or beginning in-person learning will need to comply with the policy.  Exempted students applying for on-campus housing may need to have their exemption requests reviewed again.  Please take the time to ensure the student portal is up to date with your vaccination or apply for an exemption.
Boosters and Third Doses: You get a booster!  But only if you want one.  Boosters and third doses are not required but they will be available to students 6 months after Moderna/Pfizer vaccination and 2 months after J & J/Janssen. This is because adults ages 18 and over living or working in a high risk setting, like a university, are eligible for a booster.
Storrs students may schedule an appointment for a booster or third dose by calling SHaW at 860-486-2719.  Regional students may schedule an appointment via the Vaccine Finder.  Please consult with your medical provider on whether you should receive a third dose or a booster.
Housing: Get excited!! The consistency of our good health and our high rate of vaccination (you did that, students) means we can release more apartments into the housing stock for Spring housing selection. Beds that were previously set aside in Northwood and Charter Oak for isolation are coming back to the regular housing stock!  Stamford isolation beds will largely remain the same.
Dining at Storrs: Brace for impact: to-go containers are going away in the spring.  To-go will remain for students with accommodations and those observing quarantine.  Students with those measures in place will receive directions from CSD or SHaW on how to obtain dining.
Masking and Color-Coded System: I hope you enjoyed my ode to orange last week.  Feel free to look it over to get a sense of why we continue to be cautious and maintain required masking indoors.  The Medical team shared with me today that we do have confirmed flu at Storrs.  Please allow this to be reminder to continue to follow good hygiene, masking, and preventative measures to protect our health.
As you know, most of us will leave campus for the semester break and travel to our homes and other locations all over the world.  That means it is wise to re-open in orange and then, when appropriate, relax once our good health is established.  I know you may approach that desire to relax with some skepticism given the course of this semester.  However, our intention is to relax masking as our health and the global presence of COVID-19 warrants.  My crystal ball is not clear on when that will be but it's our goal when the time is right.
International Travel Back to the US:  International students traveling back to the US will need to follow the most current CDC guidelines.  The University continues to accept WHO authorized vaccines as proof of vaccination.
Classes: My friends in the Provost's office have shared that class modality will largely be the same as this current semester with around 90% of classes being in-person.
More on testing: In the spring, the Storrs campus will continue to offer extensive testing to symptomatic students and identified close contacts.  If you wish to be tested, students should continue to contact the Advice Nurse for evaluation and access to testing.  If students are not symptomatic, SHaW can advise on how to obtain a test.
Regional students should consult their provider or call 211.
All UConn students who are exempted from the COVID-19 vaccination requirement will participate in surveillance testing and re-entry testing as directed by the University.
We have come a long way.  Let's embrace this journey together.  There is no denying that the journey has been hard and there is still much to do for the health and safety of others.
Keep caring, my friends.  Be well.
Eleanor JB Daugherty, EdD
she/her/hers
Associate Vice President and Dean of Students
Ode to Orange – 11/5/21
Subject: Ode to Orange
Dear Huskies,
Ok, Daily Campus. You've raised some really good questions through your opinion pieces.  I don't disagree; COVID measures are challenging, particularly when our health is so strong. Masking is hard, but it works.  I always benefit from talking with all of you, university leadership, and my amazing colleagues in infectious disease, public health, and student health care.
So I thought it would be helpful to talk some more about why we remain in orange.
Last year, we were facing significant illness with a modest arsenal to protect our health. Our success was based on your willingness to significantly alter your behavior by distancing, quarantine (sometimes seemingly endless …), minimal gatherings, and so much testing. I know that defined too much of your college experience and I'm thankful for the progress we have made together.
This fall, we became a nearly fully vaccinated campus and we opened to a semester with Convocation, basketball games, gatherings (thank you, IFC and PanHellenic, for all of your work off-campus last week), roommates, and in-person learning. We do, however, remain in orange. The real distinguishing factor of orange is that masking remains required for all of us indoors. We evaluate whether to change this designation every week.  Any changes in that status will be updated on the dashboard.
Masking matters. We know that the Delta variant is present on the Storrs campus and is aggressive. Despite vaccinations, it has caused positive cases at UConn. As a result, I want to ask you to continue to join us in ensuring our good health by wearing a mask indoors regardless of vaccination status.
In addition to our own good health, we want to consider our faculty, staff, family, and friends who cannot be vaccinated because of personal beliefs, age, or health history.  Fortunately, that status has very recently changed with the authorization for younger children to receive the vaccine. Together we do all we can through vaccination, mask wearing, and good hygiene to keep our community's health strong. I see that care not only in your actions, but in the actions of your faculty who also wear masks, were vaccinated, and always care for your good health.
As we plan for the coming term, I want to remind our students returning to in-person learning for the first time and newly admitted students that you will need to either demonstrate proof of vaccination or receive an exemption as indicated in our COVID-19 vaccination policy. Please note that students seeking to live in UConn residence halls who are seeking an exemption must do so by Dec. 9 to enter housing selection.
Next week, I will share greater detail about our spring plans. As a spoiler alert, let me share that I don't anticipate any significant changes (there may even be some good news in Charter Oak and Northwood).
More to come.
Be well, UConn,
Eleanor JB Daugherty, EdD
she/her/hers
Associate Vice President and Dean of Students
P.S. I love that our scholars are researching the ongoing impact of COVID-19 upon college student wellbeing.  If you want to be a part of this research, you are warmly invited to take their survey.
What Rain? A Happy, Healthy Weekend is Ahead – 10/29/21
Subject: What Rain? A Happy, Healthy Weekend is Ahead
Hi Huskies,
Three weeks until Thanksgiving break - WOW.  That happened fast!
I know there is both a lot of fun ahead and midterms may feel never-ending.  I hope you know how much we all believe in you: academic advisers, residential staff, faculty, friends, dining staff (sometimes, you just need some fries) … all of us are here for you.  We care about you, believe in your success, and understand that things are challenging.  Talk to us if you need help.  We're here.
A couple of highlights:
Confronting COVID forums: We've come a long way since last year and want to touch base with our campuses.  These forums begin TODAY and continue through the 8th.  We paid attention to the concerns raised over the summer and fall and have convened a panel of campus leaders, leaders in the religious and medical community, and students.  Join us for an open conversation about COVID, our worries, our health, and our community.  All are very welcome:

Stamford: TODAY at 12:30 p.m.  Virtual only
Hartford: Tuesday, Nov. 2 at 2:15 p.m., Hartford Times Building, Room 145.  Free t-shirts for in-person attendees while supplies last!
Storrs: Nov. 8: 4 p.m., Student Union Theatre
Halloween: This should be a time when we relax a little, hang out, dress up, and have fun. It could also be a time when we realize that we should not be looking to substances, like excessive drinking, to provide a relief from the stress we are experiencing.  So, let's celebrate responsibly and care for one another.

The University's Good Samaritan statement reminds you that your health is the most important thing to us.  Call 911 and do the right thing for a friend in need.
Be sure to read the Halloween email that went out to all students and participate in the AWESOME events that Students Activities have put together for Storrs students.
Off-campus community members, I strongly encourage you to ensure that any gatherings meet town ordinances, as well as local, state, and federal laws.  Did I mention I 'strongly' encourage?
Shout out to our Waterbury campus: On Oct. 8, the UConn College of Liberal Arts and Sciences awarded $2,500 to the Waterbury Campus Diversity, Equity, and Inclusion Committee in support of a performance entitled Fully Vaccinated by NYC cabaret performers David LaMarr and Darnell White. The show addresses such topics as mental illness, LGBTQ+ experiences, the media, racial inequality, Black Lives Matter, and the COVID pandemic, and will be presented at Waterbury's Palace Theater during Spring 2022.   Talk to the campus about how to obtain tickets!
Finally, some great news from the One Card office.  If you currently have a UConn ID, you can exchange it one time, free of charge, for an updated preferred name on the card.  My sincere thanks to my colleagues in the Dean of Students office and the One Card office for reducing barriers and allowing us to further honor students' identities.
All good things,
Eleanor JB Daugherty, EdD
she/her/hers
Associate Vice President and Dean of Students
Stay Safe, Stay Healthy, Stay Connected – 10/28/21
Subject: Stay Safe, Stay Healthy, Stay Connected
Hello Huskies,
As we enter the mid-point of the semester, it's important that we continue to work together to keep our community safe and healthy. October brings us to fall, cool and crisp days with leaves changing and thoughts of Halloween and fun activities. Let's celebrate safely and make choices that reflect who we are as Huskies.
Halloween Safety - Celebrate Safely
Check out the many Halloween activities across all the UConn campuses on the uKindness site
Off Campus and Commuter Student Services has safety tips on their website that are helpful to all students.
Costumes and Celebrations – Choose Wisely
When selecting a costume, please remember that cultures are not costumes.
The Office of Diversity and Inclusion website provides helpful information about cultural appropriation versus cultural appreciation and questions to consider when selecting a costume.
Review this information in advance to help ensure your costume choices aren't harmful to your fellow students.
Substance Use Safety – Make Good Choices
If substances are part of your celebration, engage in strategies to reduce your risk of impacts.
Eat before drinking - consider setting a limit (students who have 3 or fewer drinks are less likely to experience blackouts or hangovers), and check out these tips for pacing yourself.
Avoid spreading germs - limit your sharing of cups or passing smoking/vaping materials between individuals.
As always, if you are concerned about the health or safety of yourself or others, call 911!  UConn's #1 priority is the safety of our students.  The Good Samaritan Statement reminds us that we need to look out for and take care of each other.
Please remember to have fun, make good choices, and think carefully about your actions and how they may impact you, your friends and those around you.
Stay Safe, Stay Healthy, Stay Connected!
Division of Student Affairs
Office for Diversity and Inclusion
University Safety
We Need You: Bias Action Group – 10/27/21
Subject: We Need You: Bias Action Group
Dear Huskies,
I really need students to apply for the Bias Action Group. We have some interested students but I know there are more of you out there who care deeply about this work and want to be part of our future efforts.  The Bias Action Group is a new group that will meet every semester to review our bias data, identify trends and concerns, and create programming and messaging that address the real issues present at UConn.
You may remember that Dr. Tuitt and I wrote to you about a month ago reviewing all the bias data shared with the university.  In that email, we shared that bias occurs on our campuses and that bias behavior harms and insults members of our UConn community.  Those actions undermine our ability to care for one another, respect identity, and be a global center for learning and scholarship.
UConn wants to be better about how we respond to those referrals and identify those areas where we need to improve in training, education, and programming.
I find that we often learn from one another and do better work for UConn in the process.  Here are a few examples of what resulted from those efforts:
Students shared with me the importance of disclosing what we have learned about bias at UConn.  That led to the regular email from myself and Dr. Tuitt as well as other colleagues.
Students advised me of the need to share what we know and how we respond.
Students sought to have a clear reporting pathway, which led to this comprehensive site that was easy to understand.
Clearly, involving students in how we handle complex issues makes UConn better.   You have always helped myself and my colleagues be a better UConn. We do our best work together.
If you are interested in joining this group, please email your name, contact information, and a brief explanation of your involvement and interest in participating on the Bias Action Group to dos@uconn.edu.   Please write "Bias Action Group" in the subject line.  Applications should be received no later than November 14, 2021 (yes, Saturday) at 5 pm.
We need you in order to do our best work for UConn.  I hope you will consider applying.  All students on all campuses are welcome to apply.
Yours,
Eleanor JB Daugherty, EdD
Associate Vice President and Dean of Students
Earning Success – 10/22/21
Subject: Earning Success
Hi Huskies,
What an amazing week.  The weather is amazing, First Night was terrific, and we are steadily getting through midterms and starting to think about the holidays.  I'm not bringing up the snow thing yet, but I know you are eyeing Horsebarn Hill...
Victory for Football
What great news to hear about our recent success in football.  I watched Yale defeat my alma mater on more than one occasion and they are a formidable adversary.  Congrats to the success of our players and the fans who cheered them on to victory. Make sure you head back to cheer them on this weekend for the Pride Game.
More importantly, though, is the lesson our athletes have taught all of us.  Whatever the challenges are that you face – midterms, relationships, or running the ball down the field -- success doesn't come easily. It is earned as we try and try again while learning from our failures.  Our athletes showed us this past weekend what persistence and success look like.  Well done.  Let's take that spirit and carry it with us into the next bio-chem exam.
Healthy Huskies: Confronting COVID-19
This past summer, the university announced a COVID-19 vaccination requirement for students.  As you know from the dashboard, the vast majority of students on all of our campuses demonstrated proof of vaccination.  Some students were apprehensive about the vaccine's safety  or had a number of beliefs that led them to request and receive a non-medical exemption.  The university will soon be hosting a series of forums  to continue our conversation about the value of vaccination and provide an open space to talk about COVID-19.
These forums will feature campus leaders, leaders in the religious and medical community, and students.  Join us for an open conversation about COVID, our worries, our health, and our community.  All are very welcome:
October 29
12:30 p.m.
Stamford campus: Gen Re Auditorium, Room 109
November 2
2:15 p.m.
Hartford campus: Hartford Times Building, Room 145
November 8
4 p.m.
Storrs campus: Student Union theatre
Lounging Around in Waterbury
Earlier this week, the Student Lounge opened on the Waterbury campus.  I love the opportunity for students to linger and hang out between classes.  Be sure to check it out on the first floor of the campus building.
That's it.  The weather is great and we are going strong as a community that celebrates our successes.  Congratulations to all of you – it's been an inspiring and challenging semester, and I'm always thankful to share in the journey with you.
Yours,
Eleanor JB Daugherty, EdD
Associate Vice President and Dean of Students
P.S. Love the mask wearing.  Our good health and protection from COVID and flu are evidence of the benefit of wearing a mask indoors.  However, our campuses do not exactly look gorgeous when masks are dropped on the ground. So, you know, use a trash can.  Please.  Our amazing FacOps team thanks you.
UConn Hosts Greatness: Basketball, Human Rights, and all of You – 10/14/21
Subject: UConn Hosts Greatness: Basketball, Human Rights, and all of You
Hi Huskies,
I'm pretty confident tomorrow is going to be a great day and wanted to share what we're looking forward to:
First, Flu Clinics are happening at Storrs today!!  The Flu Clinic link also has information on how students unable to make the clinic can find a vaccine through the Vaccine Finder site.
I'm so appreciative of how conscientious students are about their health and the health of others.  Flu vaccines are another important resource to help us all stay healthy this winter.  Special thanks to the Daily Campus for its coverage of the importance of flu vaccines.
We are honored to welcome President Joe Biden to UConn tomorrow.  I know we all want to hear his remarks and praise for the incredible Dodd Center.  You are welcome and encouraged to watch the livestream of the event, "Human Rights for the Next Generation: A Dedication of The Dodd Center for Human Rights." As planning continues to evolve, please do pay attention to messaging on temporary building closures on campus during the President's visit.
Let's remember that the work of The Dodd Center and the Human Rights Institute touches us every day.  As students, I encourage you to engage with Dodd through its classes, events, and the inevitable discussion that emerges regarding the importance of this work.   It is an honor for President Biden to come to UConn.  However, allow me to also say that his visit is a recognition of our university's scholarship and the promise found within each of our students – YOU - to transform the future.  Just saying.
First Night is Friday!! For those of you whose student experience was disrupted by COVID, this is a wonderful UConn tradition that we are thrilled to bring back. You do need to claim tickets online by the end of day today.  Don't forget!
Friday is also the day of the Rainbow Center's Symposium.  I'm thrilled to see some of my favorite scholars presenting (yes, Barbara Gurr, I mean you).  This is a great forum for student thought and scholarship.  Please take the time to stop by and learn more.
Finally, last spring the UConn Recovery Community gathered nine other student groups and partnered with the Ocean Recovery Community Alliance (ORCA), a program from the Connecticut Community for Addiction Recovery (CCAR), to clean up trash on campus. In two hours with 80 volunteers, they collected almost 900 lbs. of trash.
On Oct. 17, from 1 - 3 p.m., the UConn community will again gather to clean up the Storrs campus. I know my friend Sandy Valentine, Health Promotion Manager and recovery coach, is eager to achieve a personal goal of 200 students collecting 2,000 lbs. in two hours.  Who wants to help?  Thanks to the Office of Sustainability for partnering with SHaW on this important work.
Things are happening on the regional campuses as well, below is a sample of a few upcoming events to check out.
On Oct. 21, from 2 – 4 p.m. on the Hartford campus, students may want to check out Research Connections, a program intended to expose first and second year students to UConn faculty and the amazing research being conducted on campus.
The Stamford campus events calendar is full of amazing activities. On Oct. 15, Stamford students can enjoy Dairy Bar ice cream close to home – just pre-register in order to get your scoop.
If you want to talk more, you are all invited to the Dean's Advisory meeting on Oct. 21.  Happy to provide a virtual connection if in-person isn't possible.
Have a great weekend, UConn.
Eleanor JB Daugherty, EdD
Associate Vice President and Dean of Students
Moving Mountains and Making Friends – 10/8/21
Subject: Moving Mountains and Making Friends
Hi Huskies,
I like the habit of closing out the week with you (hopefully, you don't mind).  In the past, it was necessary for us to connect because of COVID and all of its adventures.  Now, I just enjoy the opportunity to stay connected.
We just wrapped up suicide prevention week.  The Suicide Prevention Week Walk was a striking moment that reminds us all that we are not alone.  In fact, we are surrounded by faculty, staff, and friends who care deeply.  Let us know if you need help.
Moving Mountains:
The Rally for a Peaceful Planet on Wednesday was a stunning representation of the power of students to make the world a better place.  UConn is one of those places that always works to be better.  I am thankful for the words of our leaders in the student body and the administration.
This is a good opportunity to respond to the call for transparency by reminding all of you that you are encouraged to apply to participate in the Bias Action Group. This group will meet every semester to review our bias data, identify trends and concerns, and create programming and messaging that address the real issues presented in our own community.
If you are interested in joining this group, please email your name, contact information, and a brief explanation of your involvement and interest in participating on the Bias Action Group to dos@uconn.edu.   Please write "Bias Action Group" in the subject line.  Applications should be received no later than Oct. 28, 2021 at 5 p.m.
Staying Healthy:
Flu vaccines are available on the Storrs campus every Thursday from October 14 to November 18, from 9 a.m. to 3 p.m., in the Shippee Pequot Room.   All students are encouraged to speak with their medical providers on the importance of receiving the flu vaccine.
Making Friends
As our community continues to address how to be welcoming to Afghan refugees, I have to say I greatly enjoyed having the opportunity to meet UConn's own Kathy Libal.  Dr. Libal is the director of the Human Rights Institute.  Kathy and Zahra Ali, who is the Director of Global Partnerships & Outreach, are working in conjunction with IRIS, community leaders, students, and other countless colleagues to ensure refuges in our region are offered:
Access to English-language training for refugee families through our UConn American English Language Institute (UCAELI) program (online in COVID context).
Language support for Dari and/or Pashto speakers through volunteer translators.
Donations to support quality of life and transition to living in the U.S.
More to come, but I imagine there will be additional opportunities for students to support this important work.
Got Art?
President Agwunobi (I know, I know, he likes to be called Andy) and I stopped by the Rainbow Center earlier this week before a meeting.  While we were there, the amazing Ariel shared that the Rainbow Center is bringing back their annual Art Gala on the 20th of this month! Submissions are welcome until the 11th of October.  The link to the form is on the Art Gala webpage.
Have a great weekend, UConn.
Eleanor JB Daugherty, EdD
Associate Vice President and Dean of Students
Green Jell-O, Access to COVID Testing, and a Slam Dunk – 10/1/21
Subject: Green Jell-O, Access to COVID Testing, and a Slam Dunk
Hello, Huskies,
I can't believe we are already a month into the semester.  I know midterms are here but remember to enjoy the great events happening around campus.
Last night, I completely enjoyed attending She Kills Monsters by the amazing CRT.  The performance was outside on the Student Union lawn and FREE.  I have never before seen green Jell-O, dragons, and killer cheerleaders tell such a beautiful story of our love for those closest to us.
Please also join me in participating in LGBTQIA+ heritage month.  I'm particularly eager to see the launch of the Rainbow Center Symposium on October 15.
I want to update you on a few items that students have raised:
Access to COVID-19 testing:
The University's medical plan for this academic year absolutely allows for the testing of symptomatic students regardless of their vaccination status.  We have certainly found a small number of students who are vaccinated who have tested positive for COVID-19.
If you are feeling at all symptomatic for COVID-19, you should contact the SHaW advice nurse.  The advice nurse will evaluate your symptoms, determine whether any additional medical measures are needed, and provide you with information on how to obtain a COVID-19 test through the University if this is necessary.  All tests are conducted by appointment on the Storrs campus at our alternate care site in Rome Commons on South Campus and do not require a trip off-campus.
The advice nurse is a 24/7 resource for Storrs students during the academic year and can be contacted at 860-486-4700.
We are not experiencing long delays in access to testing and have enough tests to support the needs of any student who is not feeling well.  Both myself and our Executive Director, Suzanne Onorato, are always available to meet with students if you have concerns or recommendations that will help us better serve students.
As always, we continue to monitor the waste water across campus and Storrs center for COVID-19 and have not seen any significant presence of COVID-19.
Flu vaccination:
More than ever, flu vaccines are important and SHaW is available with flu clinics in the months of October and November.
Masking:
As I shared in my last email, the prevalence of flu season, variants, state and town masking expectations, and the ongoing realities of COVID-19 continue to make it necessary for us to wear masks in high-risk settings –notably, indoors.  The University reevaluates this position regularly and will notify you if there is a change in our color-coded system.  I know the university is looking forward to sharing with you more information on our health as a community and how that is influencing decision making.
Some students are required to participate in weekly COVID testing.  If you receive a message from SHaW indicating that you must be tested, please do not ignore the message.  Residential students who do not comply with testing requirements may lose housing.
Please remember to wear your mask when indoors.  Your care and conscientiousness continues to be why UConn maintains such good health.
All my best,
Eleanor JB Daugherty, EdD
Associate Vice President of Student Affairs and Dean of Students
P.S. Nice job, Rec Center: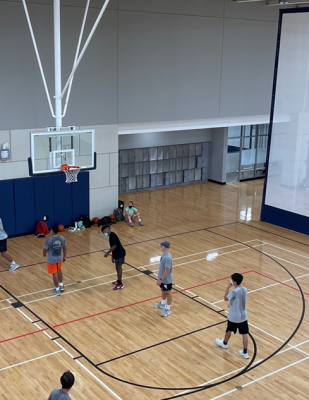 A Commitment to Diversity and Inclusion at UConn – 9/30/21
Subject: A Commitment to Diversity and Inclusion at UConn
The following message is being sent from Associate Vice President for Student Affairs and Dean of Students Eleanor JB Daugherty and Vice President and Chief Diversity Officer Frank Tuitt:
Dear Huskies,
Every year, Dr. Tuitt and I take the time to share our bias data with you.  This semester we do so while calling attention to the recent bias reports on the Storrs campus that targeted the LGBTQIA+ community. We take this matter seriously as an educational community and reject, denounce, and condemn these acts that harm the identity of others.
Bias reports, our process, and university response are available here.   The summary of reports is updated every 3 weeks.
Members of LGBTQIA+ community contribute to the rich diversity that makes the University of Connecticut stronger as an institution.  The views and behaviors expressed by the perpetrators of these hurtful acts do not reflect who we are or aspire to be as an institution. 
Who we are:
We are a community built on unique opinions and identities. That diversity of expression enables UConn, as a research university, to commit to the creation of knowledge as well as the personal and intellectual development of our students.  That process of discovery and development is one in which we must all engage with humility and curiosity.
It is with that spirit that we share with you what we have learned from the past year on issues relating to bias that have occurred and impacted our community at UConn.  Most importantly, at the end of this message is a call to help us educate ourselves and others.
What we know:
During the 2020-2021 academic year, 91 bias referrals were submitted and reviewed under the Bias Response Protocol.  Of the reported cases during the 2020-2021 year, 79 had some connection to speech, either in the spoken word, email/internet messages, social media and or classroom comments. The referrals are related to words and how we express our feelings. We need to find ways to allow our voices and perspectives to be expressed while not targeting others and their identity.
What we do:
While free expression is important in having productive dialogue, the University acts when targeted acts of racism or bigotry occur. In January of 2015, the University developed its Bias Response Protocol to support students who experience an incident that either is or appears to be bias-related. Each referral is shared with the UConn Police Department and the Office of Community Standards to review for possible criminal and/or violations of The Student Code.
What this means:
Expression of ideas is an essential component of a research university:  we cannot discover and innovate without the opportunity to express, understand, and debate a variety of opinions. UConn must be a place where we can express ourselves, cherish the diversity of identities that form our community, and welcome the opportunity to continually learn from one another.  To facilitate such an environment, we need to feel empowered, valued, and equipped to engage in healthy and effective dialogue on issues such as antisemitism, gender equity, and systemic racism. Opportunities for growth and learning are readily available for all who want to participate.
The UConn events calendar and UKindness page are full of engagement opportunities; there are diversity initiatives housed in individual centers/institutes, schools and colleges, exhibits at the Benton Museum, resources from the Office for Diversity and Inclusion, and the Dodd Human Rights Impact programs.  These are just a sample of how the community can join together to expand our individual knowledge base and open lines for discussion.
Our students, too, play a key role in mobilizing where issues of systemic racism and inequity need to be resolved.  Collective action, such as the Rally for a Peaceful Planet on Wednesday, October 6 reflect the impact of our combined voices (nice job, USG, Praxis, UCCO, Fridays for Future, Powerup, and the Human Rights Symposium).
Is this enough?  
Our conversations with UConn students show that we care deeply for one another but we must also face the impact of hateful, harmful, words and actions in our own community.
The chart below summarizes the types of bias at UConn reported during the past academic year.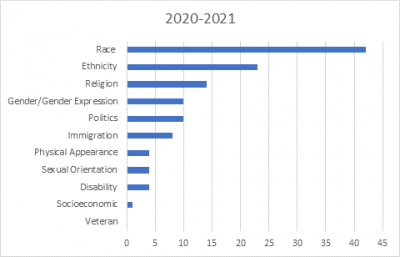 Please note that the previous chart reflects all forms of bias reported to the University.  This chart reflects incidents that may be reported twice because two or more actions occurred.
A call to action:
We must always amplify the care we have for each other with the impact of bias upon our community.  To do so, UConn will be forming a Bias Action Group composed of students and staff who are committed to understanding, responding, and educating our collective community on issues of bias.  This group will meet every semester to review our bias data, identify trends and concerns, and create programming and messaging that address the real issues presented in our own community.
If you are interested in joining this group, please email your name, contact information, and a brief explanation of your involvement and interest in participating on the Bias Action Group to dos@uconn.edu.   Please write "Bias Action Group" in the subject line.  Applications should be received no later than October 28, 2021 at 5 pm.
UConn is committed to being one of the world's leading institutions by encouraging the expression of ideas within a highly diverse community of scholars and students.  We welcome the voices of our students in this important work, and we look forward to another successful academic year.
Best,
Eleanor JB Daugherty
Associate Vice President and Dean of Students
Frank Tuitt
Vice President and Chief Diversity Officer
We're Back – 9/15/21
Subject: We're Back
My Husky Friends,
Wow.  Just wow.  You're here.
Convocation was magical.  So was the Sophomore Welcome.  So was the start of class.  Magical.  And you were the reason why.  If you are new to UConn, welcome.  If you are returning, welcome back. It's been a minute.
As you know, we've been keeping an eye on things.  I have to say, it's looking really good.  Here are a few highlights:
Our Health: We have opened the semester on a strong note.  Your efforts have resulted in a vaccination rate of 90% or higher on our campuses.  The volume of COVID-19 cases we have encountered are small.  Especially given the reality of the delta variant among all individuals, we know what to do to keep those numbers low: get vaccinated, wear a mask, and get tested if you aren't feeling well.  
Remember that the University is currently in orange and will likely stay that way for some time given current state guidance and the prevalence of variants.  I know that may be disappointing for some, but we know what works for controlling disease spread on campus, and masking in indoor settings is an important part of our success.
We also know what doesn't work: large gatherings off campus without prevention measures in place, close contact with others outside of a residential setting without wearing a mask, and ignoring symptoms when we are not feeling well.  If we want to avoid exposure and spread, folks should not cram into a small space and should wear masks indoors.
Our Community: It has been a joy to see all of you on our campuses.  The staff and faculty need you as much as you need them.  Being in community with one another has brought immeasurable joy to everyone.
Let's remember that we have been through a great deal.  This isn't back to normal per se.  This is bringing back a sense of normalcy after an unprecedented interruption.  During that time, we all made heroic decisions to protect the health of ourselves and countless others.  We're back and we are stronger and more compassionate than ever.  Let's not forget that the journey has been hard and is still ongoing, and make sure we grant each other – and ourselves - some compassion and forgiveness.
Advisers, faculty, staff, and fellow students are all here and we all care.  Let's always remember to ask for help and a friend when we need one.  You matter and we are here.
Staying Connected: Looking ahead, I see nothing but amazing activities and events on all of our campuses.  The staff have gone to incredible efforts to ensure we remain connected as one UConn through safe and appropriate gathering guidelines.  Check it out here to learn more about our continued UKindness events that are both virtual and in person.
Finally, Dean's Advisory will be meeting for the first time this semester this Thursday at 4 p.m. in the Rec Center.  There will always be a virtual option provided to students who are not able to attend in person.  Just email us at dos@uconn.edu for more information.  All are welcome.
All my best,
Eleanor JB Daugherty, EdD
she/her/hers
Associate Vice President and Dean of Students
Welcome Back. We're Ready – 8/20/21
My Dear Huskies,
I am so grateful to you and all that you have done to make it possible for UConn to open next week with the greatest confidence.   I also want to extend a warm welcome to our new students.  You are now part of a community that is driven by care for others and pride in being a Husky.  Welcome.
For those of you who know me well (and if you don't, you are always welcome to stop by Dean's Advisory), you know that, in my own words, what I'm really saying is this: You rock.  You are awesome.
We are unbelievably excited to welcome you to all of our campuses.  I thought I would take some time to review some details on medical readiness, move-in at our residential campuses, and connection this fall.
Medical Readiness:
Vaccination is absolutely the best weapon we have to beat COVID-19, including the variants that have emerged over the past several weeks.   All of you have taken steps to ensure your health and the health of others, and I am so pleased to report that student vaccination numbers are now significantly higher than the country and the state.  Currently, all of our campuses are above 80% full or partially vaccinated.  Nicely done.
Currently, around 3% of our 30,000-plus students have received exemptions.  Those students are very welcome on our campuses and will be required to observe additional safety measures such as surveillance testing and masking to provide for their health and the health of our community.
The CDC and our own state Department of Public Health continue to closely watch the presence of COVID in our community, state, and nation.  As such, we can always expect guidance to evolve as we know more.  This has caused the University to make some modifications in its plans:
I think it is now very fair to say that masking is essential in closed spaces, and it's University policy that everyone must wear masks inside buildings whether they're vaccinated or not.  The University will open in orange

,

and it is now very likely to remain that way until we have better news on the Delta variant.
All residential students granted exemptions from the COVID-19 vaccination requirement at the Storrs and Stamford campuses will be required to participate in weekly surveillance testing.  Failure to meet this expectation could result in a removal from housing.  All residential students are encouraged to review the Temporary Health and Safety Procedures provided by Residential Life. Off-campus Storrs students may be subject to holds at campus facilities such as the Recreation Center.
Per recent CDC guidance earlier this month, vaccinated students will need to be tested, but not necessarily quarantined, if they are identified as a close contact of a positive individual.  As always, anyone positive for COVID-19, regardless of vaccination status, will need to be isolated.
Connection and Community: Strong but not perfect (and that's a good thing).
Last year, thousands of students told us what they hoped for when they resumed classes in the fall.  For our students returning for their second year, we are so pleased to offer a specialized WOW experience and a warm welcome on Saturday evening.
We are thrilled to be welcoming students back to all of our campuses and invite students to check their campus websites to learn more about all of our robust programming. Storrs students are encouraged to consult the WOW calendar.   Join us in celebrating each other and a successful fall semester.  The President is looking forward to welcoming you to UConn at Convocation and we will be sure to share highlights with all of you!
I had a chance to meet with our amazing Storrs RAs this week. In addition to expressing my gratitude for their commitment to all of you, I called upon us to embrace imperfection.  We are thankful to be together.  The pandemic has been both devastating and a reminder of how strong we are as a community that cares for each other.   Take the time to sleep, eat, ask for help, attend a game, make friends, find love… and, most importantly, to be imperfect.   We are a caring community that will need to forgive, listen, connect, and build compassion as we return after such a challenging year.
Move-In: August 27-29
Residential Students who are compliant with the requirement to either report vaccination status or secure an exemption have received information about move in from the Department of Residential Life. Students need to sign up for a move in slot.  Please adhere to the schedule provided to reduce the amount of time you will wait at the check-in site.  This year, there is no limit on the number of helpers a student can have moving them into their rooms. All individuals entering the building must wear masks and cannot linger in hallways or other congested spaces.  Please do not bring family pets with you during move-in.
As a reminder, residents who are not vaccinated or not fully vaccinated will be expected to observe a modified quarantine. A few key things to know:
This quarantine may last up to 10 days.
Residential students are not permitted to have guests during modified quarantine.
Students are permitted to attend class, work in person, and participate in essential research functions conducted at UConn.
Meals are grab and go only.
As students, you have always shown us the way over the course of the past year.  We have overcome so much and accomplished even more.  We have done that together as a community.  Here's to a better tomorrow.
Welcome back, UConn.
Eleanor JB Daugherty, EdD
Associate Vice President and Dean of Students
Getting Prepared for Fall – 7/28/21
Subject: Getting Prepared for Fall
Dear Huskies,
I can't believe it's almost August.  I hope that you have all been enjoying a restful summer.
I had a recent conversation with my advisory group about student feelings around returning for the fall.  The following thoughts came up that I wanted to share with you:
We are not the same community that left in the Spring of 2020, hoping we would return in a few weeks.  We have demonstrated care and concern for each other and our families.  We have been afraid and we have witnessed inequity throughout our world as we battled the impact of this pandemic in our lives. We are changed. I hope that, despite the hardship, we are better for it.
We are have been consistently driven by compassion.  I hope that you return to campus in the fall with that same compassion and care for each other that kept us going for over a year.  As you all shared with me and my colleagues last year in the "do over" survey, returning to our campuses in the fall is not a simple adjustment.  We are excited, apprehensive, confident, impatient, and a little worried.  All at the same time.  And that's ok.  When we welcome each other back in the fall, our planning is intended to allow us time to come together (finally!), compete in club sports, have a roommate, attend classes, and be the community we wish to be.
We have worked hard for our good health.  Our vaccination rates indicate that we are oriented towards being a healthy campus in the fall.  Please remember that it is important that you report your vaccination status to us by August 1.  Students who do not complete this reporting requirement may be subject to holds, inability to use the Recreation Center, and unable to move into campus housing.
When we return, we will observe additional precautions like mask wearing in indoor settings for all students and a modified quarantine for those not fully vaccinated.  This will allow us to establish a baseline of good health as we welcome students back from all over the world and the country.  We will open cautiously, in orange.  Following the safe return of our students and the establishment of their good health, we intend to progress to yellow.  We will always keep you informed of our health through the University dashboard.
I'm thankful to the Student Activities staff for the incredible programming that has been developed for HuskyWOW.  Be sure to check it out.
Finally, a sincere thank you to all of you who have seen us through this challenging time.  I recognize that fall will be a period of transition for all of us.  I know it will also be a time when I celebrate my great pride in being part of such a wonderful Husky community.
See you soon!!
Eleanor JB Daugherty, EdD
she/her/hers
Associate Vice President and Dean of Students
2020 - 2021 Message